Captivating's Santa Run- Thank you and photos!
Captivating's inaugural Santa Run was a truly festive spectacle. 342 runners and 65 volunteers, donned red shirts, hats and Santa suits to run or walk the 6km or 3km around the new Shenzhen Bay walkway. We were overwhelmed by the response from the community, from runners to volunteers, and it was truly enjoyed by participants and spectators alike!
133 Children then got to meet Santa and received gifts, kindly donated by Gold Sponsor ZURU, while listening to carols sung by the truly amazing Freedom:61. It was a wonderful way to start the holiday season.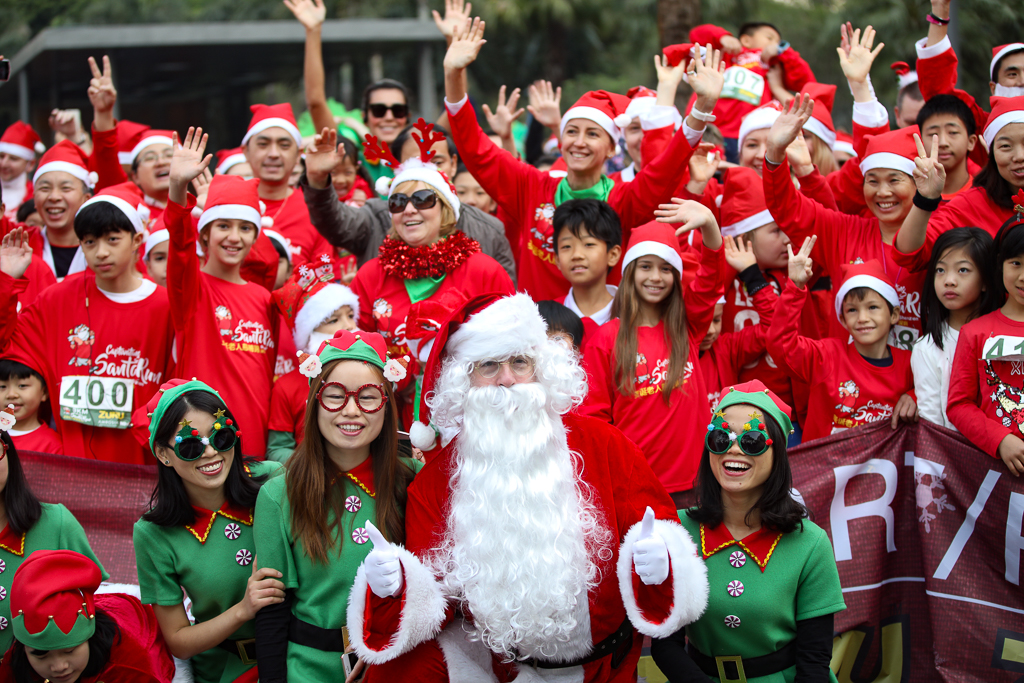 Congratulations to all participants who each received a Santa Run medal and special congratulations to the Santa Run winners!
The event raised funds for Captivating International, a Hong Kong registered charity, operating under the umbrella of the Shenzhen Charity Federation. Funds raised will go to projects ranging from educational support for girls who have missed schooling, healthy village programs and helping entire villages address their poverty through animal husbandry and greenhouses.
Our sincerest THANKS to the following who made this happen: 
OUR SPONSORS including the amazingly creative, award-winning toy company ZURU, who was our Gold Sponsor for this event. Thank you once again to our returning sponsors AMROSIA Global Sourcing and Inspection, for being our Frankincense sponsor and New Vision Display (NVD), our Myrrh sponsor. We are thrilled that you chose to support us on our first Santa Run!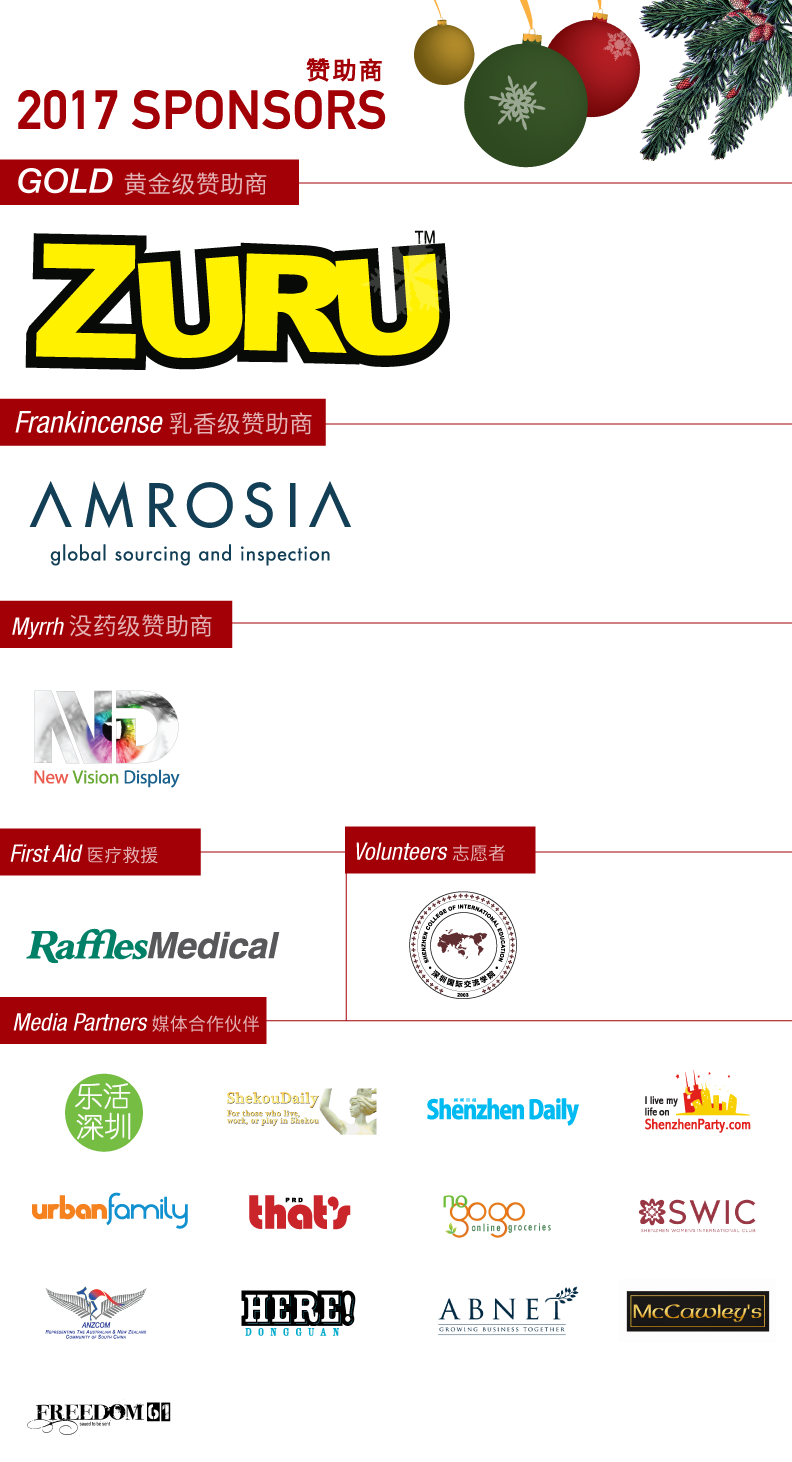 OUR COMMITTEE: Tom Simpson from SCIE, Claire Taylor of Snapdragon Interiors, Serena Cole, Tracy Chen, Vivian Yuan and our fabulous Santa, Tim Mitchell. We would also have been lost without our incredible English MC Tom Simpson and Chinese MC Chuqi Luo and finally, 40 energetic student volunteers also from SCIE led by the wonderful Gary Ellis.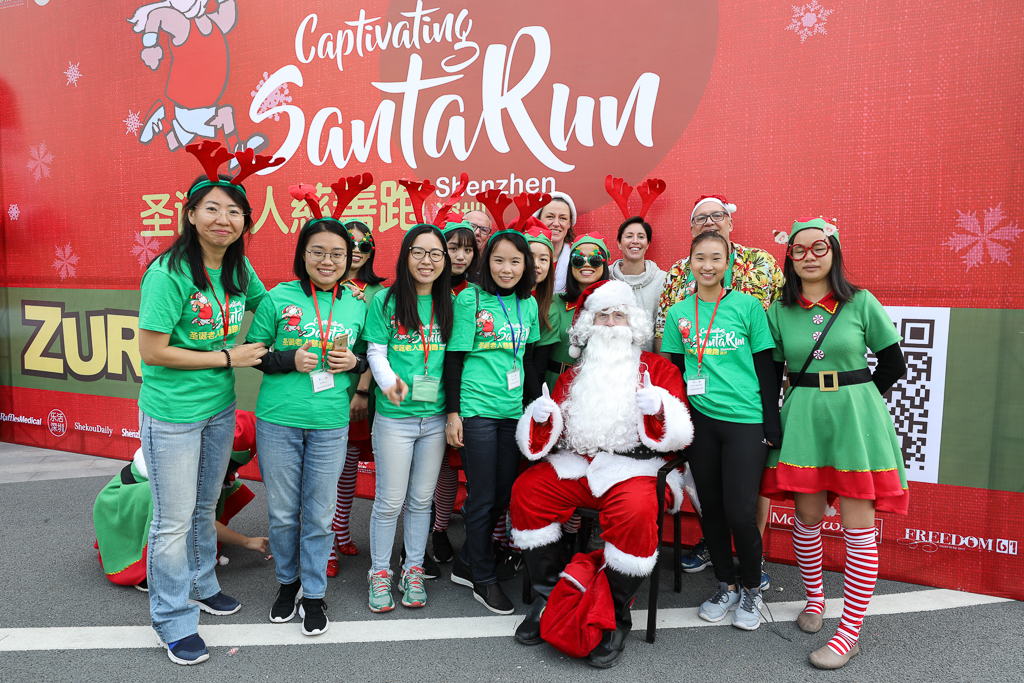 EVENT and MEDIA PARTNERS: Freedom:61, our band who ensured everyone left in truly festive mood after singing a wonderful selection of carols, McCawley's Peninsula, who kindly hosted the post event party, donating 20% of all takings from the anyone wearing a santa hat that day, and everyone who helped to promote the event: ABNET, ANZCOM, Here! Donguan, Lohas Shenzhen, Nogogo, SWIC, Shekou Daily, Shenzhen Daily, Shenzhen Party, That's PRD, Urban Family.
Our final thanks are to the Shenzhen Bay Management who graciously facilitated the run in their park and the local police for ensuring a safe event. Lastly, Raffles Medical Shenzhen for being on hand to attend to any medical needs (and thanks for the water too!)
Best Completion Time Prize
6KM
Female
1st place:   015 Alli Denson
2nd place: 014 Jamie Bacigalupo
Male 
1st place: 001 Christopeher Ott
2nd place: 052 Juan Diego
Boy
1st place: 009 Simon Abbott
2nd place: 010 Phineas Abbott
3KM
Female
1st place:   215 Minakova Mariia
2nd place: 418 Renchun Liu
Male 
1st place: 204 Dallas Stahle
2nd place: 343 Sergei Gatalskii
Boy
1st place: 317 Noah Adam Melton
2nd place: 318 Tristan Collier Melton
Girl 
1st place: 238 Alexandra Gatmdk
2nd place: 416 Sunny Shen
YES! Santa Claus is coming to town!
In fact quite a few! Please join us for a really fun festive morning to help raise funds to bring hope to underprivileged children and families in Qinghai.
Everyone is welcome, from serious runners and joggers to walkers and families! Come in your favorite red, white or green outfit or festive best! There will be a LIMITED number of Santa suits for the first 100 to arrive on the day who wish to wear them.
The run is 6km long but there will be a 3km family run for those with young children. There will be medals for everyone who finishes as well prizes for the run winners, and the best fancy dress!
After the run there will be a chance for the children to meet Santa Claus and receive a free gift, as well as post-race entertainment and Christmas carols. We hope to see you there!