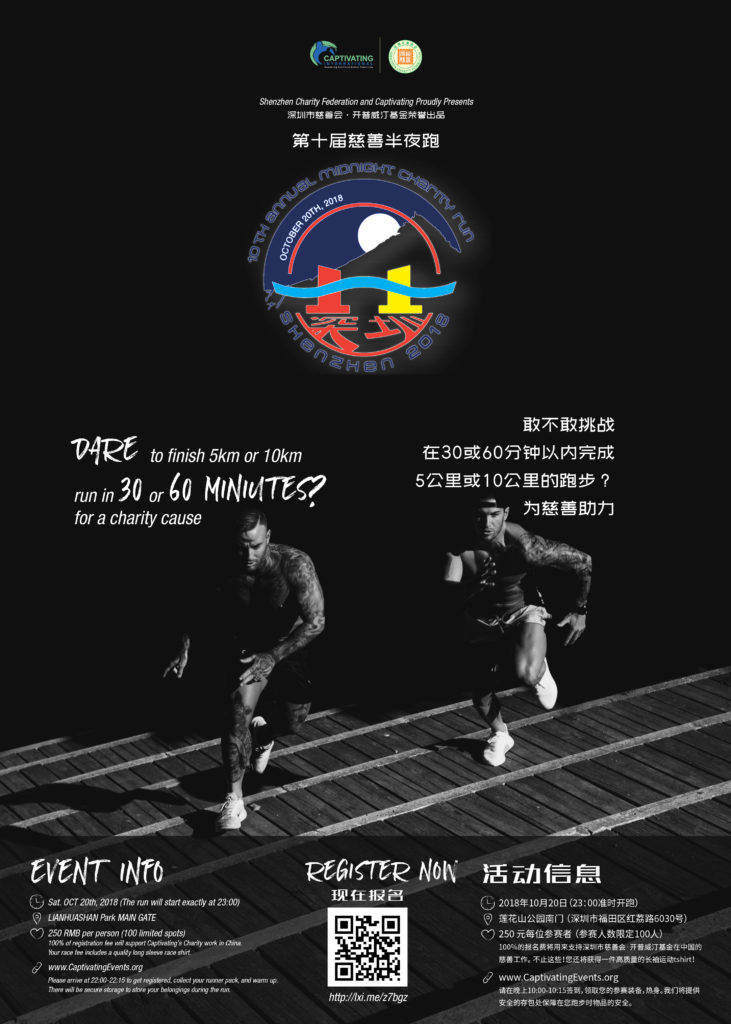 Event Details
100% of registration fee will support Captivating's Charity work in China.
Date: October 20th 2018
Time: 23:00 pm (Please arrive at 22:00-22:15 to get registered, collect your runner pack, and warm up. There will be secure storage to store your belongings during the run.)
Place: Lian Hua Shan Main Gate, Shenzhen
Registration Fee: RMB 250/runner
Your race fee includes a quality long sleeve race shirt. Fill in the online registration form including shirt size.
Places are Available on a First Come First Served Basis
Please Sign Up and Pay ASAP!
For Further Information
EMAIL: MidnightRun@captivating.org
PHONE: +86 755 2667 4830
All Proceeds are Going to Captivating International
You can also visit Captivating International's website to learn more www.captivating.org.

Saturday, Oct 20, 2018 – Thank-you Greg Schultheis, so many volunteers, corporate sponsors and runners. In total, an amazing RMB225,000 / US$32,500 was received through generous support being made to the Shenzhen Charity Federation Captivating Fund and also directly to Captivating International in Hong Kong. This makes it possible for our partners to achieve the following – all thanks to your willingness to run for a cause, and for companies to get behind this event with their support. Can't thank you enough Shenzhen.
Between now and October 2019, the Midnight Run will make it possible for:
40 single moms in Qinghai Province to rest easy knowing education for their unschooled girls has now become a reality;
full funding for a whole year of a monitoring station that exists to intercept girls before they become victims of Human Trafficking (this will save 10 girls a month); and
part funding of the ongoing monitoring, evaluation, and compliance costs of the Captivating support team in China (ensuring we keep focused on key outcomes)
Your hard efforts on Oct 20 will impact the lives of so many in significant ways. Thank you again Shenzhen. You can keep up to date on how the above projects are going on WeChat and also by visiting captivating.org. If you supplied your email to us, we will notify you of stories related to the above.
Looking forward to the 11th Annual Midnight Run next October.
For past years events please visit szrace.com
Midnight Charity Run Video