Kidz with Heart 2019 Video
CAPTIVATING INTERNATIONAL & SHENZHEN CHARITY FEDERATION present
The 2019 Kidz With Heart Mini Olympics
A fund-raising event supporting the work of Captivating International in China
Shekou International School (SIS) Jingshan Villa, Shekou was once again filled with a buzz of action, high-5's and passionate kids on Saturday March 16, as Captivating in conjunction with the Shenzhen Charity Federation, ran the first of two Mini Olympics events for the 8th year.
175 kids (5 – 11 year olds) competed in multiple Olympic-style events including basketball shoot, golf, short and long-distance running races, three-legged race, bean bag toss, ping-pong ball game, archery, long-jump and a limbo event. Parents, volunteers and multiple local businesses supported the event and a great day of fun and excitement was had by all.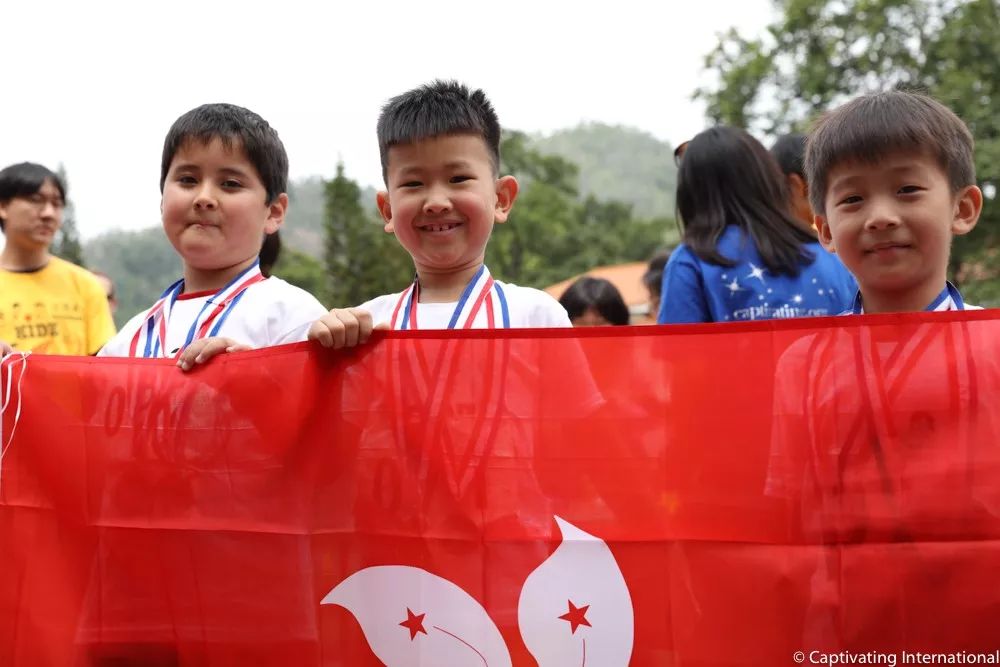 Congratulations to all participants who each received a Mini Olympics medal and special congratulations to the award winners, who proudly received their gold, silver and bronze medals while displaying their country flags at the end of the event.
The event raised funds for Captivating, a Hong Kong registered charity, operating under the umbrella and guidance of the Shenzhen Charity Federation. Funds raised will support the ongoing work of Captivating in China including educational support for girls who have missed schooling, healthy village programs and helping entire villages address their poverty through animal husbandry and greenhouses.
Our sincerest THANKS to the following who made this happen: 
OUR SILVER SPONSORS:  to AMROSIA Global Sourcing and Inspection and KidKraft thank you for your incredible generosity. We are thrilled to have your support again and the children LOVED playing with KidKraft's beautiful playhouse and kitchens.
OUR BRONZE LEVEL SPONSORS: Five-Star Sports, QSI, New Vision Display and new golf sponsor The First Swing – Junior Golf Program, your support has helped tremendously in raising important funds for the work of Captivating.
OUR VOLUNTEERS: We literally would have been lost without our incredible English MC Tom Simpson and the quite amazing 105 energetic SCIE student and teacher volunteers who were are Group Leaders, minders led by the wonderful Gary Ellis, who kept all the kids ordered and controlled; Five-Star Sports and their team of professional coaches for running a professional basketball competition, and Derek Graham from The First Swing, who encouraged a new generation of budding golfers! Special thanks to our volunteer photographer O口Studio, Yuan ni Chen and Videographer Sun Chao.
OUR COMMITTEE: Tracy Chen, Vivian Yuan, Serena Cole from Captivating, Tom Simpson from SCIE. 
EVENT and MEDIA PARTNERS:
To Shekou International School (SIS), China Merchants Shekou Holdings and the Jingshan Management Group, who once again graciously provided the FREE USE of their beautiful estate and equipment, along with fantastic support to ensure the event was safe and enjoyable for children; Thank you also to Shekou International School (SIS) for event and operation support. Our thanks to Raffles Medical Shenzhen for being on hand to attend to any medical needs (and thanks for the water also); to our food providers on the day – all who gave their time freely to us and generously donated 60% of sales to Captivating.  Amazing!
Thank you Artisans Pizza, Hanover Coffee, Maxima Ice Cream and Woodpecker Smokehouse!
And finally to urbanfamily, That's PRD, Here! Donguan, Shekou Daily and Shenzhen Party for spreading the word!
Thank you to each and everyone one of you for your support!
To find out more about Captivating's work in China, email info@captivating.org or go to their website www.captivating.org